Past exhibition
Shifting Optics II
Various artists
Amsterdam, 20 Mar - 25 Apr '15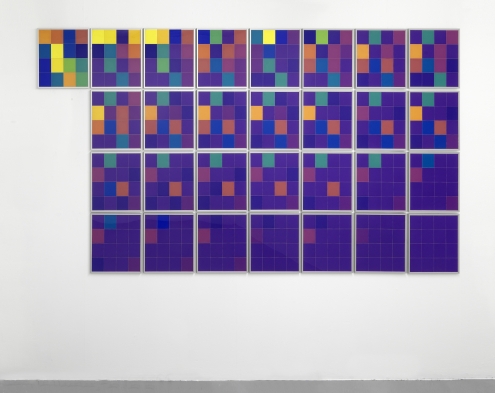 Past exhibition
Shifting Optics II
Various artists
Amsterdam, 20 Mar - 25 Apr '15
A group show with Harm van den Dorpel, JODI, Geoffrey Lillemon, Rafaël Rozendaal, Lillian F. Schwartz and Peter Struycken.


Upstream Gallery Amsterdam proudly presents the exhibition Shifting Optics II, a sequel to the group exhibition signaling the fading boundaries between digital and analogue art practices (September 2014). That exhibition introduced a new generation of artists who effortlessly switch between digital and non-digital media. Art magazine De Witte Raaf: "That is what makes Shifting Optics in Upstream Gallery so important. Really signaling presentations, with new positions and angles, are indeed rare. This international group exhibition with eight artists shows a generation in full width and with high-quality work".

With Shifting Optics II, the rapid developments in this field are combined with works by artists who pioneered in the application of digital technology in the 20th century. This combination demonstrates the urgency and topicality of these early works and simultaneously provides an art historical context to the youngest developments.

Artists such as Lillian F. Schwartz and Peter Struycken discovered the artistic potential of algorithms in the 1960s and collective JODI researched the Internet as a canvas in the 1990s. Thus they spread the way for a new generation of artists who combine virtual reality with other media in a seemingly effortless manner, the Internet as their ubiquitous and inexhaustible source of inspiration. Shifting Optics II shows these multidisciplinary developments in the field of digital arts in all their depth.
Harm van den Dorpel
Harm van den Dorpel (NL, 1981) studied artificial intelligence before attending art school. His background as a computer programmer is reflected in his work, in which algorithms and information systems play a major role. Besides websites Van den Dorpel creates sculptures based on material he found online. They look like the immediate materialization of 3D-renderings. A recent series of digitally manipulated whiteboards with magnetic elements is inspired by work methods used by teams developing software, but are timeless nonetheless because of their focus on composition.

JODI
JODI is an art collective consisting of Joan Heemskerk (NL, 1968) and Dirk Paesmans (BE, 1965). They are widely acknowledged as the founder of net.art, an experimental 1990s art movement. Not only have they investigated the possibilities of the Internet as artistic platform since it's beginning, they were also very early in critically reflecting on the medium itself.
JODI's works are characterized by digital chaos; their motto is "no content".
The videos from the serie GEO GOO are screengrabs from the website GEOGOO.net that is based on the application Google Maps, used daily by millions of people for orientation purposes. But JODI has fully appropriated the system, discarding it of all logic. As a result, the maps become extremely disorienting, with icons creating random geometrical shapes. The site consists of a happily chaotic mess of information that is made completely useless.

Geoffrey Lillemon
Geoffrey Lillemon (US, 1981) created a triptych specifically for Upstream Gallery, consisting of an oil painting interwoven with virtual reality. Digital performance artist Sheast plays a leading role. In an ominous psychedelic parallel reality, experienced through an Oculus Rift, the absurdist origins of the painting are unveiled.
Lillemons work is regularly exhibited in art institutions and the artist is also known for successful collaborations with a.o. Bernard Willhelm and Miley Cyrus. His motto: "We work with the macabre and applied sciences because the most futuristic idea we can experience is death. Therefore we explore themes of sexuality and birth as a means of braking tomorrow's heartless technology with an intimate reality that is happening now".

Rafaël Rozendaal
Rafaël Rozendaal (NL, 1980) attracts over 32 million visitors per year with his web-based artworks. The websites are often interactive and are undeniable characteristic of our current times, while at the same time referring to 20th century abstract painting.
The last years Rozendaal has been exploring ways of expanding his artistic practice beyond the Internet. Physical manifestations of his work include a series of lenticular paintings and the abstract browsing tapestries, which are based on a plugin that turns the Internet into a brightly colored, abstract geometric space.

Lillian F. Schwartz
Lillian F. Schwartz (US, 1927) is an absolute pioneer when it comes to the development of digital applications in visual arts. In collaboration with academic researchers she developed the basic principles of computer-generated animation techniques and virtual reality. Her work was the first in its medium acquired by the MoMA.
Schwartz's work is characterized by a fundamental urge to experiment and a never-ending quest for the creative potential of new technologies. With the video Trois Visage (1977) Schwartz introduced the artistic use of digital picture processing to television.

Peter Struycken
Peter Struycken (NL, 1939) has been using computers to create artworks since the late since the late 1960s. Structure and logic constitute fundamental decisive elements in his working method.
Although Struycken generally works in a non-figurative manner, his most well-known work is probably the portrait (1981) of former queen Beatrix, which still adorns Dutch postage stamps to this day. Besides an artist Struycken also works as a color expert. He created many iconic works in public space in The Netherlands and installations that made use of computer-controlled light in a revolutionary way. From Struycken a major work from the '70s is shown, a spectacular wall-sized set of 29 screenprints on paper as well as a great work from the '80s consisting of 6 cibachrome prints.
Images:
Peter Struycken, Splash, 1974
Geoffrey Lillemon, Triptych I: The Meticulous Conception of the Deity Forlorn, 2015
JODI, GeoGoo_Glcon, Digital video screengrab of website geogoo.net, 25 min, edition of 5 (+2AP)