Past exhibition
Flowers
Cristóbal León & Joaquín Cociña
Amsterdam, 8 Jun - 20 Jul '13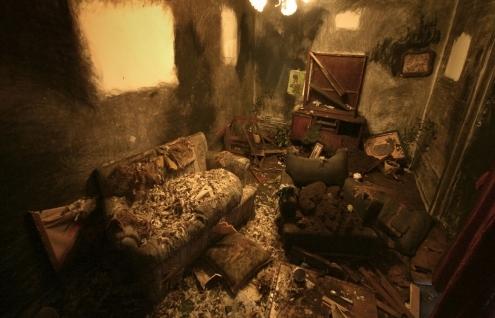 Past exhibition
Flowers
Cristóbal León & Joaquín Cociña
Amsterdam, 8 Jun - 20 Jul '13
Upstream Gallery proudly presents the exhibition Flowers by Cristóbal León (Santiago, Chile, 1980) and Joaquín Cociña (Concepción, Chile, 1980).

The latest video of León and Cociña, titled 'Los Andes' (2013), recently had it's premiere at the opening of the 55th edition of the Venice Biennale at the Latin-American Pavilion (Arsenale). From the 8th of June 'Los Andes' can be seen at Upstream Gallery, which has been representing the duo since 2010.
Alongside 'Los Andes', León and Cociña will present a one-off installation of a work in progress: their first full length film 'La Casa Lobo'. The artists are right in the middle of making this film and by presenting it as a work in progress they offer a unique insight into their artistic working process. A part of the film will be shot at Upstream Gallery itself where the duo will create a set, which together with the remaining objects will be part of the installation. It is the first time that parts of the unfinished film are exhibited.
With their experimental films, Leon and Cociña create a new interpretation of the religious symbolism and magical rituals that are deeply rooted in the traditional culture of Latin America. The narrative plays a key role. The surrealistic, esoteric films of Chilean underground filmmaker Alejandro Jodorowsky but also the aesthetics of children's fairy tales are sources of inspiration for the duo. For the production of their films they combine different techniques such as photography, drawing, sculpture, dance and performance.
Cristóbal León and Joaquín Cociña have been working together since 2007. They were educated at the Universidad Católica, Santiago de Chile. León also studied at UDK (Berlin) and De Ateliers (Amsterdam). León and Cociña won several awards and their films are selected regularly for international film festivals. Their work is frequently exhibited in museums and biennials in Latin America, but it has also been presented at venues such as the Whitechapel Gallery, the Guggenheim, KW Berlin, Art Basel Statements 2012 with Upstream Gallery and currently at the Venice Biennale.