Past art fair
ART ROTTERDAM 2018
Rotterdam, 8 Feb - 11 Feb '18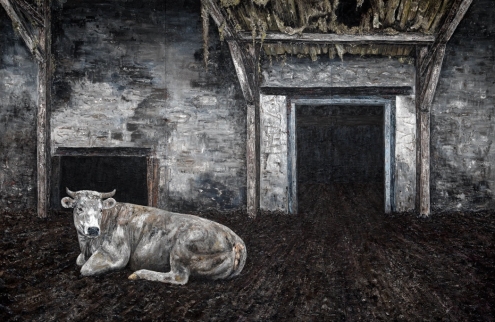 Past art fair
ART ROTTERDAM 2018
Rotterdam, 8 Feb - 11 Feb '18
During Art Rotterdam 2018, Upstream Gallery proudly presents new paintings by Ronald Ophuis and Raymond Barion at the main section of the fair and a new website by Rafael Rozendaal at Projections.
Upstream Gallery at Art Rotterdam, booth 29
The presentation comprises Ronald Ophuis' most recent work, in which he often creates a connection with themes that have, in the last century, generally been reserved for the domain of folk art. The presentation is centered around a large scale oil painting that depicts a cow in an old and decayed stable: a vanishing achetype.
The gallery also presents a new painting by Raymond Barion: Untitled (Kamer), 2017. Barion's distinctive use of the isometric perspective and his almost mechanical touch, influenced by drawing techniques used in architecture, are both apparent in this work that was never before exhibited.
Projections with Rafaël Rozendaal
For Rafaël Rozendaal, the Internet functions as a studio, a canvas and an
exhibition space all in one. Since 2001, he has been creating artworks in the form of websites, that now attract an audience of 60 million unique visits per year. Furthermore, his websites have been exhibited in several public places including Times Square in New York City and Seoul Square in Seoul. Upstream Gallery participates in the Projections section of the fair with one of his most recent websites: many moment .com.
NN Group Art Award 2018
Furthermore, Rafaël Rozendaal is nominated for the second edition of the NN Group Art Award. The award is intended for an exceptional talent who has followed his or her education in the Netherlands and whose work can be seen at the fair. A selection of works by the four NN Group Art Award nominees will be presented in a special booth located next to the fair's Intersections section.
Fake Manifest by Marc Bijl and artist talk during CitizenM special event
Especially for CitizenM, main sponsor of Art Rotterdam, Marc Bijl has created a new installation that will be presented at their booth: Fake Manifest. The large text installation invites visitors to take a selfie and share the picture on Instagram, while simultaneously reflecting on the current state of information overload and the continuing devaluation of photography. CitizenM furthermore celebrates Art Rotterdam on Wednesday February 7th, with a special event and artist talk by Marc Bijl at the CitizenM Rotterdam hotel. During the event, Marc Bijl will talk about inspiration in his artworks, materials and techniques, and will introduce his Fake Manifest. The evening continues with a short film about Art Rotterdam featuring art critic Hans den Hartog Jager, followed by Young Collectors Circle Nienke van der Wal's tips for navigating the fair main. Click here for more information and tickets.
More info: Art Rotterdam 2018
Ronald Ophuis, Cowshed 2016, 2017
oil on linen, 340 x 525 cm.
Raymond Barion, Untitled (Kamer), 2017
acrylic on canvas, 310 x 200 cm.
Rafaël Rozendaal, many moment .com, 2018
website