Past art fair
Amsterdam Art Weekend 2017
Amsterdam, 23 Nov - 26 Nov '17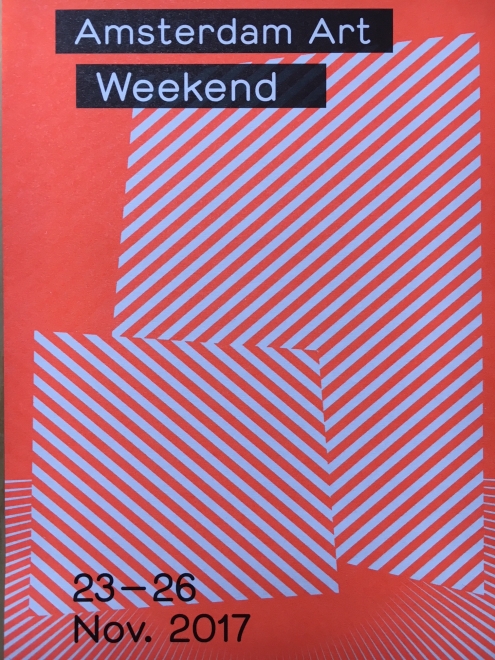 Past art fair
Amsterdam Art Weekend 2017
Amsterdam, 23 Nov - 26 Nov '17
Join us for the next edition of the Amsterdam Art Weekend, that takes place 23rd - 26th of November 2017!

Amsterdam Art Weekend is the only contemporary art weekend in the city and offers visitors a four day jam-packed program with more than 100 events at over 50 different locations. During this weekend, Amsterdam will be entirely dedicated to contemporary art, giving you the opportunity to explore and discover the latest developments within the visual arts!
Upstream Gallery during Amsterdam Art Weekend
During this years Amsterdam Art Weekend, Upstream Gallery is showing Zeitgeist, a solo exhibition by Marc Bijl as well as a performance by sound artist Kayleigh Beard (The Netherlands, 1993). Both the performance and the exhibition reflect on the contemporary media landscape and its political diffusion.
Rafaël Rozendaal at EYE
The public arena at the EYE Filmmuseum will star a visually overwhelming multi-channel video installation by Dutch-Brazilian artist Rafaël Rozendaal during the 'An Evening at EYE' event that takes place Friday 24 November, 21.00-24.00 hours.
Amsterdam Art Weekend at IDFA: Human Nurture with Jeroen Jongeleen
A length of string, good running shoes and stamina are enough for Jeroen Jongeleen to make his mark on public space. His video work Running 1000 Steps Along a 5 Meter String (2015) will be featured at 'Amsterdam Art Weekend at IDFA: Human Nurture'. Saturday 25 November, 14:00-15:41 hourrs.
Opening hours

Friday 24 November: 10.00 – 21.00 hrs
Professionals' Preview: 10.00 – 13.00 hrs
Gallery Night: 17.00 – 21.00 hrs
Saturday 25 November: 12.00 – 20.00 hrs
Sunday 26 November: 12.00 – 18.00 hrs
Amsterdam Art Weekend is organized by Stichting Amsterdam Art (Amsterdam Art Foundation). This year marks the sixth edition of the Amsterdam Art Weekend, which in 2016 welcomed more than 46,000 visitors. More info: http://weekend.amsterdamart.com/