Past art fair
ART ROTTERDAM 2017
Rotterdam, 9 Feb - 12 Feb '17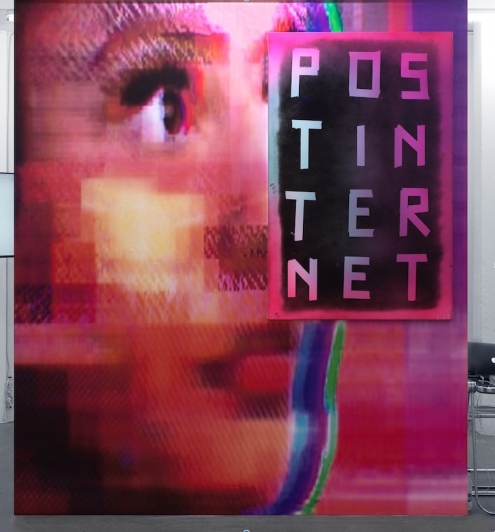 Past art fair
ART ROTTERDAM 2017
Rotterdam, 9 Feb - 12 Feb '17
During Art Rotterdam 2017, Upstream Gallery proudly presents a group exhibition that consists of solely digital works by Marc Bijl, Harm van den Dorpel, Constant Dullaart, Jeroen Jongeleen, Jan Robert Leegte, Rafaël Rozendaal and Pepo Salazar. Since 2014, the gallery has presented a variety of exhibitions in which the impact of digital culture on the visual arts was shown. Among them was Shifting Optics, a series of signaling group exhibitions that presented both a new generation of artists that have embraced a digital working method, as well as pioneers who were using computers and the Internet already in their art in the twentieth century. In the meantime, the urgency of digital art is more and more recognised by institutions and a wider audience, as reflected in the recent joint acquisition by Stedelijk Museum Amsterdam and MOTI Breda of 17 works by contemporary digital artists, as well as recent and current exhibitions such as Electronic Superhighway at Whitechapel Gallery, Human / Digital: A Symbiotic Love Affair at Kunsthal Rotterdam, and Sleep Mode. The Art of the Screensaver at Het Nieuwe Instituut.
Harm van den Dorpel
Harm van den Dorpel (NL, 1981) is a Berlin-based conceptual artist. His broad practice includes the creation of sculpture, collage, computer animation, computer generated graphics and interaction design. He is regarded a key figure in Post-internet Art. In his work he investigates how algorithms can analyse digital archives and guide the artist in aesthetic decision taking, leading to a symbiosis of man-machine art creation. Using computer programming he describes traditional notions in art, such as for example the free use of intuition and expression. Conclusions from his research are then fed back in the production of new work. His ultimate goal is to reveal the reasoning structure of his own consciousness, and his implicit associations and assumptions. In this proces he borrows ideas from psychoanalysis, the writing of Jacques Derrida, and Artificial Intelligence (which he studied).
Constant Dullaart
Constant Dullaart (NL, 1979) is a former resident of the Rijksakademie in Amsterdam and now lives and works in Berlin and New York. In 2015, Dullaart was awarded with the Prix Net-Art. Like the work of his digital native peers, Dullaart's often conceptual work manifests itself both online and offline. Within his practice, he reflects on the broad cultural and social effects of communication and image processing technologies while critically engaging the power structures of mega corporations that dramatically influence our worldview through the internet. He examines the boundaries of manipulating Google, Facebook and Instagram and recently started his own tech company Dulltech™ with Kickstarter.
Jeroen Jongeleen
Jeroen Jongeleen (NL, 1969) is an experimental visual artist, operating in various media, but always focused on how we deal with public space: the way we define, frame, limit and controle it. In his interventions, legal as well as lesser legal, he questions the role art can play in this. Where traditionally an artist paints with paint, a sculptor sculpts or videos are made with a camera, at this stage of his practice Jeroen runs his art through running.
Jan Robert Leegte
Jan Robert Leegte (NL, 1973) is among the first artists who were involved in the 90s NetArt movement. Since 1997, he creates art in the form of websites, which he connects to art historical movements such as minimalism, land art and conceptualism. Leegte also translates the themes of his work to offline media such as print, sculpture and projections. A reoccurring theme in his work is the sculptural materiality of interfaces of computer programs. Like the early graphic design of cursors, selection boxes and menu bars that were to give the user the impression of actually physically pressing the buttons with graphic shadows. Leegte often uses these components and by placing them in a new context, giving them their own, sculptural legitimacy.
Pepo Salazar
Pepo Salazar (ES, 1972) lives and works in Paris. In the work of Pepo Salazar the iconoclastic aesthetics of movements such as punk, rebellious attitudes or teenage vandalism, merge into constant allusions to the history of art, to utopian avant-garde movements, such as Dada, Situationist proposals or contemporary philosophy. All of them are vital options of commitment and of the struggle to transform society, a struggle that is largely dead and buried today, gruesomely swallowed up and placed at the service of the very same system that it denounces. Salazar has had several solo exhibitions at Upstream Gallery. He represented Spain at the 56th Venice Biennale, 2015. His work was also part of exhibitions in Artium (Spain), Palais de Tokyo (Paris), Kunstlerhaus Bethanien (Berlin), Art in General (New York), TRAFO Museum (Singapore), Fundación Tàpies (Barcelona) and the Guggenheim (Bilbao).
Rafael Rozendaal
Rafaël Rozendaal (NL, 1980) is a Dutch-Brazilian artist who lives in New York. In this last decade Rozendaal has made name with his artworks in the shape of websites through which he reaches an audience of over 60 million unique visitors a year. Since a couple of years he also produces physical works – in which the internet is however never far away. For Rozendaal, the Internet functions as studio, canvas and exhibition space all in one. Since 2001, he has been creating artworks in the form of websites. These works exist purely online: they have no physical form or location. The websites are based on a set of rules, and finding out how they work is up to the visitor.