Past art fair
Art Rotterdam 2015
Rotterdam, 5 Feb - 8 Feb '15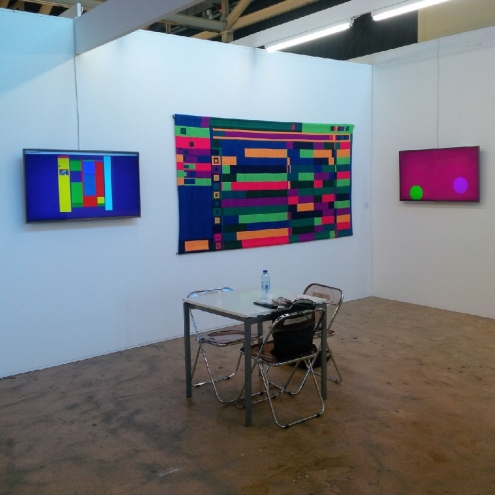 Past art fair
Art Rotterdam 2015
Rotterdam, 5 Feb - 8 Feb '15
Between February 5 and 8, the art fair ART Rotterdam takes place at the Van Nelle Fabriek in Rotterdam, which was recently appointed Unesco World Heritage status.
The 16th edition of Art Rotterdam informs you about all the latest developments in visual art. Art Rotterdam becomes more and more an alternative for the large international art fairs with different views on young art in diverse exhibition concepts. The fair makes the city sparkle with many beautiful museum exhibitions, side fairs, open studios and pop-up shows.
During the fair, you can find the presentation of Upstream Gallery at booth 30 of the main section. We will bring an exciting selection of new works in a great variety of media; from websites to pencil drawings and tapestries.
Frank Ammerlaan, who currently has the solo show Faith by Proxy at Upstream Gallery, will be present with recent oil paintings with thread. Marc Bijl will exhibit his abstract works in Corten steel for the first time in the Netherlands. Furthermore Upstream will show new paintings by Armen Eloyan, drawings by David Haines, paintings and mixed-media works by Ronald Ophuis. Finally, Rafaël Rozendaal's colorful tapestries, based on his website abstractbrowsing.com, will be shown for the first time.
We hope to see you there and look forward to showing you these new developments in the work of our artists!
For information about opening times and tickets, please visit the Art Rotterdam website.