Past art fair
The Armory Show
New York, 3 Mar - 6 Mar '11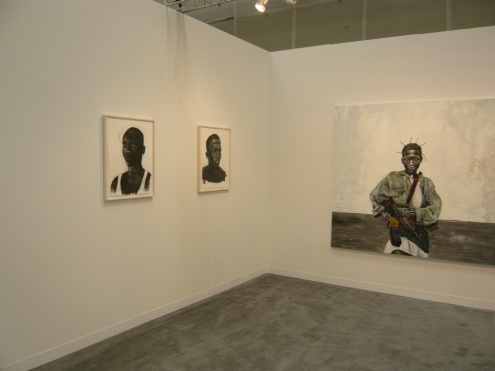 Past art fair
The Armory Show
New York, 3 Mar - 6 Mar '11
Upstream Gallery presents Ronald Ophuis solo at the Armory Show NY 3 – 6 March 2011.
Ophuis is confronting the public with paintings about human suffering, from Nazi brutality to the Srebrenica massacre and crimes in Iraq. His work fits in a longtime Western tradition of depicting cruelty and violence. In the new body of work that will be on show at The Armory, Ophuis shows portraits of child soldiers who fought in the civil-war (1991-2001) from Sierra Leone. Recently Ophuis went to Sierra Leone to interview the boys and girls that had been recruited in the militias. Followed by a filmcrew that is making a documentary about his work from this period he travelled through the country and gathered first hand information from the former soldiers which together with lots of photos form the basis of his new works.
At The Armory Upstream Gallery will present a selection of works from this serie ranging from portraits on paper and canvas in the size of about 60 x 50 cm (23,6 x 19,6 inch) as well as two large canvasses from 200 x 340 cm (78,7 x 133,8 inch).