Past art fair
Amsterdam Art Gallery Weekend 2020
Amsterdam, 25 Nov - 29 Nov '20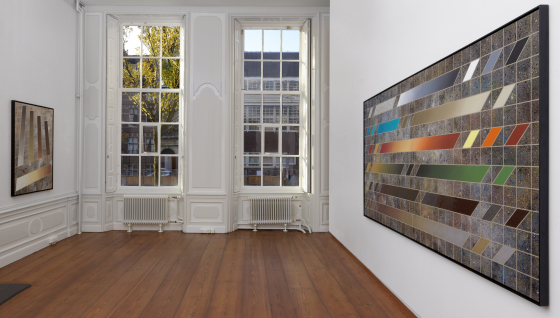 Past art fair
Amsterdam Art Gallery Weekend 2020
Amsterdam, 25 Nov - 29 Nov '20
Amsterdam Art Gallery Weekend 2020

During Amsterdam Art Gallery Weekend 2020 Upstream Gallery presents in its main gallery space BODY ARMOR, the fourth solo exhibition of Frank Ammerlaan with the gallery. Read more about the exhibition here.
Marijke de Roover
In our private viewing space, we will be opening a presentation of works by Marijke de Roover. In her recent series Niche content for frustrated queers Marijke de Roover uses the visual language of viral memes to express a way of thinking that shows how institutionalized heterosexuality structures gender, as well as other stratification categories, and closes off any critical analysis of its consequences. Read more here.
Edition
A new initiative by Amsterdam Art is the release of the Special Editions. Each participating gallery presents an extraordinary and affordable limited edition artwork. During the weekend, Upstream Gallery offers an edition by Marc Bijl.
Marc Bijl often references modernist art-historical icons, like Malevich, Mondriaan or Rothko. Burnt by the sun (After Malevich) is Bijl's glam rock variation of Malevich's icon of abstract art: the black square. In the silkscreen he uses the opposition of matte black paper and high gloss with glitters.
Edition of 40
Price: €350 incl. VAT, €500,- incl. frame
Size: 50 x 50 cm
KUNSTKOOP EXHIBITION AT CAPITAL C WITH CONSTANT DULLAART
During the Amsterdam Art Gallery Weekend, a KunstKoop exhibition will open for the first time in Capital C. All works exhibited are available for a maximum of 100 euros per month (a total of 3,600 euros) with the KunstKoop of the Mondriaan Fund. The exhibition is curated by Ellis Kat.
Constant Dullaart's Dulldream - Aanrijdbeveiliging (2019) is a print generated by Dullaart's dulldream software. dulldream.xyz is a website built by Dullaart that uses 'convolutional neural networks'. These networks enable machine learning and pattern recognition through artificial intelligence. Dullaart's software does exactly the opposite: it deprives of all recognizable characteristics. The work thus takes an impressive stand against the increasing standardization that pattern recognition brings with it.
Extended opening hours during Amsterdam Art Gallery Weekend
Wednesday, November 25: 12.00 - 18.00
Thursday, November 26: 12.00 - 20.00
Friday, November 27: 12.00 - 18.00
Saturday, November 28: 12.00 - 18.00
Sunday, November 29: 12.00 - 17.00
We will allow a maximum of 10 visitors at the same time in the gallery. Masks are appreciated.