Past art fair
The Armory Show
New York, 6 Mar - 9 Mar '14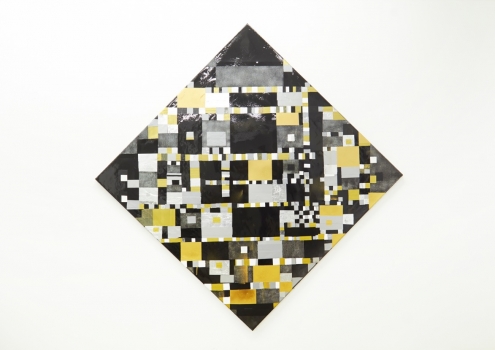 Past art fair
The Armory Show
New York, 6 Mar - 9 Mar '14
For the 2014 Armory Show, Amsterdam-based Upstream Gallery presents a solo installation with new works by Dutch artist Marc Bijl.
Dark desires and dualism play a central role in the works Bijl created for this presentation. Through the works, he investigates pairs of opposites such as the iconic versus the unknown; social structures versus inner chaos and modernism versus post-punk subcultures. Multi-layered works are created. While some of his works are referring to the iconic images of minimal art, they are always carried out in his distinct urban aesthetics that are characterized by black epoxy, tar-spray paint broken mirrors and concrete.
For the central piece in the presentation, the canvas Niteflights, Marc Bijl looked closely at Victory Boogie Woogie, the last work by fellow Dutchman Mondrian, painted in New York in1944. Bijl's version is unsaturated, a night version for dark romantic souls.
Other works included in the presentation are based on mathematical principles such as the golden ratio. But the use of broken mirrors and black drips shows the contrast between structure and chaos, and the fragile balance in an illusive 'perfect world'.
Finally, Bijl will also create works that originate directly from the streets of New York, thus connecting the city with the art fair and the inside of the booth with the world outside.
"We are all in the gutter but some of us are looking at the stars..."
Marc Bijl (NL, 1970) is based in Berlin. His works are part of leading private collections and public collections such as the Stedelijk Museum Amsterdam, HVCCA New York and Gemeentemuseum Den Haag. In 2013 the Groninger Museum organized a major overview of his work. Bijl is selected for many international group- and solo shows and biennials. He was awarded with prized such as the Theo Wolvecamp Painting Prize and the Charlotte Koehler Prize for Young art.